save 25%
winter
sale
now live
HOW

AM I DOING?

Complete performance analysis in the Catapult One app. Track your distance, top speed, sprint distance, intensity, and view and analyze heatmaps to domninate your position on the pitch.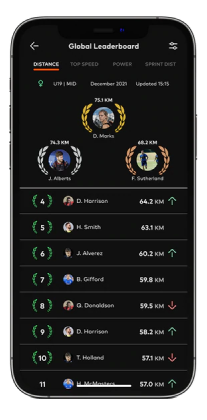 HOW

DO I COMPARE?

See how you compare against other Catapult One users around the world. View leaderboards by age, position, and gender across key metrics. Compete against yourself with regular benchmarking and crush your goals.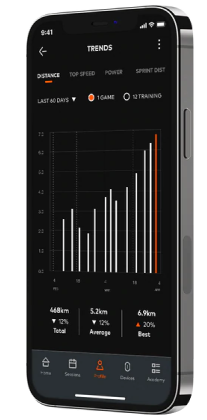 HOW

DO I IMPROVE?

Take your game to a new level by using a Catapult training plan developed by professional coaches. Set yourself a goal and watch as you climb the leaderboards.
the catapult one
kit
Catapult One is the best way for competitive athletes who play team sports to track and improve the performance metrics that matter most: Top Speed, Endurance, Agility, and more. Features the same technology used by thousands of professional athletes, seamless setup and data syncing, targets customised for your goals, and the ability to compare against your peers.
FIFA Approved Pod.
Catapult One vest, specifically developed with durability and comfort in mind.
Charge Clip.
Carry case, to keep your pod safe.
Access to the Catapult One App.
the catapult one
pod
Precise Measurement
10Hz GPS - records 10 data points per second for highly accurate positioning to record speed, distance, sprint distance and more.
Long Battery Life
Convenient and powerful, record multiple matches and training sessions on a single charge, so you don't miss out on any data.
Designed For Comfort
Catapult One's ergonomic design ensures maximum comfort and allows for complete range of movement, leaving you to focus on your game.
Storage Capacity
The Catapult One pod has capacity to record over 800 matches, that's storage for over 1250 hours of performance data.
FIFA Approved
Trusted by the pros, your pod is approved and ready to use in competitive games meeting International Match Standards set by FIFA.
Water Resistant
Engineered to withstand tough weather conditions, your pod is ready whatever the elements.
See
Results.
Catapult One users core metrics improved in just 3 months.
26%
3.5%
11.7%
25%
-->